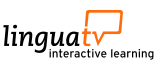 Learning languages with LinguaTV.com is motivating, fun and effective. This also applies to work at LinguaTV.
The LinguaTV language courses consist of professional videos; interactive exercises and learning games; modern internet technologies; mobile apps and more. An international team of highly motivated staff with extensive experience in the areas of design and development; e-learning and teaching; content creation and video production; marketing and sales works with considerable passion and commitment to revolutionize learning languages. As well as a large number of freelancers such as actors, musicians, translators, film crews, graphic designers and others.
We are always looking for creative and dedicated employees who are enthusiastic about languages, have their own ideas and can handle tasks independently and effectively.
LinguaTV offers you the opportunity to participate in a great environment in one of the most exciting "edutainment" projects (in the fields of education, entertainment and internet / mobile / TV) in one of the most attractive and vibrant cities in the world.
If you want to be part of this team, please apply for one of the vacancies below or send your unsolicited application to jobs@linguatv.com
Unfortunately there are currently no vacancies available.