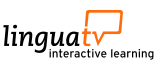 Educational Establishments
Enrich your teaching with professional videos. Use our supplementary teaching materials to create your own Blended Learning curriculum.
Simple Administration with our Learning Management System (LMS) - even with a larger number of participants.
With the LinguaTV Dashboard, in conjunction with the LinguaTV Group Function, you have immediate access to the progress of your students.
Designed and implemented by experts - based on the Common European Framework of Reference for Languages (CEFR) - and recommended for the preparation for examinations and official certificates.
With LinguaTV the participants acquire the language skills that meet their needs and can put them straight into practice - ideal for their studies as well as for preparation for their business career.
Modular and Flexible Learning
The LinguaTV method makes language-learning flexible - offering your students a customizable, round the clock curriculum - with countless opportunities for repetition.
Learn Business English from authentic situations and interactive exercises!
English 4 for Intermediate (B2)
This course will help you to improve your English in a very specific way.
An ideal course for everyone who wants to learn Business German.
References
My students were enthusiastic about being able to work at their own pace. Learning with videos improved both their aural and oral skills while the wide variety of exercises catered for different learning styles.
Private University Fresenius
We have only got a very positive feedback and our customers are really enthusiastic about the great variety of exercises. They learn faster and more effective with LinguaTV.
Owner of Private Language School
The response of my clients has been very good. The students find the videos highly beneficial!
Business English Trainer at Private Language School