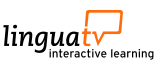 "LinguaTV" is a service provided by LinguaTV GmbH, Bötzowstr. 12, 10407 Berlin, Germany.
1. Scope
With this Data Protection Policy, LinguaTV seeks to inform you of the nature, scope and purpose of the collection and use of personal data. It is our special concern to treat all personal data with the utmost care and to protect your data in accordance with legal requirements. This Data Protection Policy forms part of the Terms and Conditions of LinguaTV GmbH. If you have questions about our Data Protection Policy, you can send us an e-mail to datenschutz@linguatv.com.
2. Handling of personal data
Personal data means information that enables a person to be identified, in other words, information that can be traced back to a specific individual. This includes, for example, a name, e-mail address or telephone number. Personal data will only be collected, used and passed on by LinguaTV if this is permitted by law or if you have consented to the data collection.
The following personal data are collected and stored by us:
Access data / server log files
LinguaTV or its web space provider collects data (so-called server log files) upon each access to our website. These access data include:
The name of the retrieved web page, file, date and time of retrieval, amount of data transferred, notification of successful retrieval, browser type and version, the user's operating system, referrer URL (the previously visited webpage), IP address and the requesting provider.
In principle, LinguaTV uses the log data only in an anonymous form for statistical evaluations of the operation, security and optimisation of its product.
These data are used in a personalised form only when necessary in order to provide technical support, service the system or ensure system security.
LinguaTV reserves the right, however, to check the log data retrospectively if there is a reasonable suspicion of unlawful use on the basis of concrete evidence.
Registration data
Data entered during registration will be used for the purposes of using our product. Users may be informed by e-mail of any information relevant to the product or registration, such as confirmation of registration, order confirmation, information about our product and changes to the range of our products or technical issues. The data collected can be clearly seen in the form completed during registration. E-mails sent by us are saved. E-mails that are considered as business letters will not be deleted during the legal retention period.
As part of the registration process, we collect the following personal data from you:
First name, last name, e-mail address, gender, password, company (voluntary)
Premium-Account
We collect further data if you purchase a Premium Account in our online shop (the postal billing address).
For the purposes of payment processing, we use an external payment service provider from the Netherlands, who is also subject to European data protection law, and with whom we have agreed a data processing contract (GDPR-compliant contract) to assure that both parties protect personal data.
For the purpose of payment processing, the following data are passed on to the payment service provider: first name, last name, e-mail address.
Personal payment details will also be passed on to the payment service provider, unless you provide the data directly to the payment service provider yourself.
If you submit your payment data directly to a payment service provider, we will only receive highly restricted data, such as information as to whether the transaction was made in relation to a particular transaction number or not. In this case we do not receive any personal payment information, such as your credit card number.
Personal Profile
In your personal profile you can fill in additional information on a voluntary basis. For example, your native language, or if the language set in your browser differs from your native language, but you prefer it for different translation purposes.
Group function
Our business customers have access a group function if required. With this, users can ask the group tutor questions that are also visible to other users of the same group.
Making contact
When contacting LinguaTV (for example via our contact form or e-mail), the details of the user are stored for the purposes of processing the request as well as in case of follow-up questions.
Learning progress, learning success and learning time (summarised as: learning data)
When the user uses our teaching materials, we store which materials have already been used (learner progress) and whether the exercises have been completed correctly (learner success). In addition, we record and store how long you have been learning for (learning time). These data flow into the so-called learning report, which is broken down into the various language competences (reading, listening, vocabulary, grammar, writing). The learning report also indicates whether various milestones of the course (intermediate tests, final tests) have been successfully completed.
For statistical purposes and in order to improve our product, we evaluate learning data in an anonymised form and may share this information via a dashboard with people involved in the learning process of our users, but not with third parties.
We will provide participants in the learning process (teachers, training managers, HR managers, etc.) with access to an individual's learning data only in the case where our users have given their prior consent.
The learning data will be stored for 8 weeks after the expiry of the license. Should you decide to continue the course within 8 weeks after the expiry of the licence, the learning progress will not be lost.
Whitepapers and case studies
On our website we offer professional articles (so-called white papers) as well as case studies. You can retrieve these after you have left us your contact details (first name, last name, e-mail address). These data will be stored and we may then contact you to provide you with more information relating to our product.
Mobile Applications ("Apps")
In addition to our online learning platform, we also offer "apps" for various operating systems. In order to detect and correct errors and to improve our applications, we collect data about the use of the application via third-party software. However, no data are collected from which a third-party provider could directly trace an individual. We receive information about how the apps are being used, which features are particularly popular so that we can draw conclusions about future enhancements to the apps. You can prevent this analysis. In order to do this, you can adjust various settings on the mobile device where the app is installed. Further information can be found at http://optoutmobile.com/.
In addition, we will - if you have allowed this on your device settings - be informed about app programme crashes. These so-called "crash reports" are carried out by third parties. However, no data are processed from which third-party providers could directly trace an individual.
Newsletter
We use our newsletter to keep you informed about our company and our products.
If you wish to receive the newsletter, we require a valid e-mail address from you, as well as information that allows us to verify that you own the e-mail address provided and that the owner agrees to receive the newsletter. Other data are not collected. These data are used only for the purposes of sending the newsletter and will not be given to third parties.
When you register for the newsletter, we save your IP address and the date of registration. This storage serves solely as proof in the event that a third party misuses an e-mail address and logs in without the knowledge of the person entitled to receive the newsletter.
In our newsletter e-mails we use so-called "web beacons" that tell us whether an e-mail has been opened and which links in the newsletter have been clicked on. We use this data to tailor our newsletter to your needs and to improve our product.
We are assisted in the sending of our e-mails by a provider (e-mail marketing service provider) from Germany, who is also subject to German and European data protection law, and with whom we have agreed a data processing contract (GDPR-compliant contract) to assure that both parties protect personal data.
Your consent to the storage of data, e-mail address and their use for sending the newsletter can be revoked at any time. This cancellation can be made via a link in the newsletters themselves, in the "My Profile" area or by writing to any of the above contact options.
Integration of services and contents of third parties
It may happen that content from third parties, such as videos from YouTube, Vimeo, maps from Google Maps, RSS feeds or graphics from other websites are included in our online product. This always presupposes that the providers of this content (hereinafter referred to as "third party provider") have access to the IP address of the users. Without the IP address, they could not send the content to the browser of each user. The IP address is therefore required for the presentation of this content. We will endeavour only to use content whose respective providers use this IP address solely for the delivery of their content. However, we do not have any control over third parties saving the IP address, e.g. in order to use it for statistical purposes. As far as we are made aware, we will inform users about it.
Cookies
Cookies are small files that make it possible to store specific device-related information on users' access devices (PCs, smartphones, etc.). On the one hand, they improve the user-friendliness of web pages and in this way serve the user (for example, with the storage of login data). On the other hand, they are used to collect statistical data about website usage and to analyze them for the purposes of product development. Users can control the use of cookies. Most browsers have an option to restrict or completely prevent the storage of cookies. However, it should be pointed out that certain features and user-friendliness will be limited without the use of cookies. You can manage many online advertising cookies from companies through the US-American site http://www.aboutads.info/choices/ or the EU site http://www.youronlinechoices.com/uk/your-ad-choices/ .
Infringement of third party rights
In the event of the infringement of third-party rights (in particular trademark, copyright, name and distinctive rights) by the user, the personal user data will be passed on to the legal holder of such rights only if the legal holder makes a convincing claim to LinguaTV.
3. No transfer of personal data to third parties
LinguaTV does not disclose the personal data of its users to third parties, unless the user has previously given his/her express consent or else there is a legal obligation to share the data. Furthermore, a transfer of personal data to third parties may occur if a legal basis allows this and the disclosure of the data is necessary for the fulfilment of our contractual obligations towards users and customers.
4. Minors
Use of LinguaTV by minors without the consent of a parent or guardian is not permitted. LinguaTV therefore expressly reserves the right to block and delete the access and data of minors, unless the consent of the parent or guardian can be established.
5. Cancellation, changes, corrections and updates
The user has the right, upon request, to receive free information about the personal data that has been stored about him/her. In addition, the user has the right to the correction of incorrect data, the blocking and deletion of his/her personal data, as far as this does not contravene any legal requirement on storage.
So that any request for cancellation, blocking and rectification can be correctly assigned, we need a written letter or an e-mail with the full name and the e-mail address with which the user registered with LinguaTV.
6. Data security
LinguaTV employs security measures to protect against loss, alteration or misuse of your information. In addition LinguaTV uses constantly updated, industry-standard firewalls as well as other security systems. At the same time, the user should be aware of the fact that due to constantly emerging viruses and other means of attacking the secured data systems of Internet services, one hundred percent protection against attacks cannot be guaranteed. LinguaTV will prosecute by civil and criminal law any detected attack by hackers and the like and inform the user about the loss, modification or misuse of his/her data.
7. Social Media
We generally do not use any social media features on our website that would allow third parties to track your usage of our website. If you find "like" or "share" functions of social networks on our website, data transmission will take place only at the moment when you click on the link. Also in this case, we will not transmit any personal information to the social network, but only the information about the object you "like" or want to share.